We are proud to be able to offer professional line of saxophones that is both a great value and is worthy of being that special horn that you can play for the rest of your life. Some of our more popular brands are Chateau as well as the great new saxophones from Eastman and now the brand new saxophones from Trevor James and Forestone. These lines are unprecidented in terms of quality and value. Please contact us for prices and availablity. Here are some examples:
Chateau Dark Lacquer 500 series. A beautiful sounding and looking horn with great ergonomics for a great price. Alto $1236, Tenor $1456
Trevor James Signature Custom comes in RAW, RAW XS and Silver Plate, alto and tenor. Alto RAW $2475, Alto Silver $3225 (I recently sold my Selmer Reference 54 to get one of these and I love it!)
Forestone Lacquered (or Unlacquered) straight toneholes, Alto $3000, Tenor $3500
Forestone Carbon Fiber Neck: This has be be played to believed! Adds fullness of tone and projection with a unique look. $900
Eastman 52nd St.: Another unbelievable instruement for the money and the soprano is especially hard to beat. Soprano: $2944 Alto: $3200, Tenor $3792
Chateau 1200 series Bari Sax. Low A, ABS case with wheels. An awesome Bari at an unbeatable price. $4060.
And a top of the line model (B800) that rivels the very best horns available is also available. It is 85% copper and includes a peg for resting the instrument on the floor while playing, List $8990, our price $5716!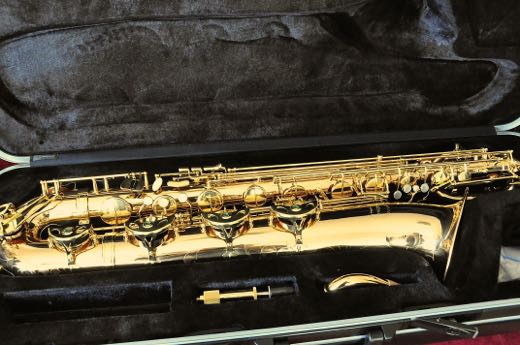 Chateau 800 series offers a wide variety of finishes. Here is a bari sax with black lacquer and brass lacquer keys ($5712):